Lloyd W. Landreth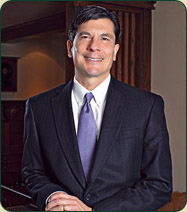 Contact Information
(918) 296-0460
(918) 296-0404 Facsimile

Landreth Law Firm PLC
801 E. B Street
Jenks, Oklahoma 74037
llandreth@landrethlaw.com
Education
J.D., University of Colorado School of Law (1986)
Participant, Graduate program in Fisheries Science, Oregon State University while employed by the U.S. Fish and Wildlife Service (1982)
B.S., Fisheries Biology/Wildlife Ecology, Oklahoma State University (1981)
Professional Affiliations and Current / Past Positions Held
OKLAHOMA BAR ASSOCIATION -
Member
Chair, Environmental Law Section
COLORADO BAR ASSOCIATION -
Member
AMERICAN BAR ASSOCIATION -
Vice-Chair, Section on Energy, Environment and Natural Resources Environmental Crimes and Enforcement Committee
Practice Emphasis
With a pre-law educational and work history in the natural resource and environmental science fields, Lloyd Landreth has practiced exclusively in the environmental regulatory and litigation area since 1986.
Clients & Matters
Mr. Landreth's clients include oil and gas exploration, production and transportation companies (including petrochemical subsidiaries), waste disposal companies, domestic and international airlines, airline fuel consortiums, electric and gas utilities, Indian tribes and a variety of industrial clients.
Mr. Landreth has extensive experience with environmental actions brought nationwide under federal statutory schemes such as CERCLA, RCRA, CWA, NEPA, CAA and state equivalents thereto, as well as common law claims. Mr. Landreth has been involved in defending clients against regulatory agency and private party claims for cost recovery and in pursuing cost recovery actions on behalf of clients against private parties and government agencies related to alleged soil, surface water and groundwater pollution. Mr. Landreth has worked extensively with environmental consulting firms on the technical and legal aspects of environmental claims associated with a variety of affected media (air, soils, sediments, surface and groundwater) including alternatives associated with risk-based cleanup requirements. Mr. Landreth has worked on a variety of environmental matters for Indian tribes and has been involved in numerous water right transactions.
Representative past and current matters include:
Defense and prosecution of claims related to historic and current saltwater and petroleum hydrocarbon pollution at E&P and midstream facilities on behalf of oil and gas producers
Development of natural resource damage claims for federal agencies against PRPs and defense of federal and state claims for natural resource damages on mining, landfill, oil and gas E&P and estuary sites
Negotiation and development of environmental agreements with private parties, state and municipal authorities and management of risk-based cleanup activities associated with upgrade and expansion of a jet fueling systems at airports and negotiation of lease terms
Defense of federal citizen suit environmental claims against airlines and oil companies associated with terminal, hydrant, refining and pipeline facilities
Defense of and enforcement of indemnification obligations associated with environmental claims at industrial, energy and commercial facilities
Transactions on behalf of developers for securing groundwater and surface water rights and valuation of water rights
Representation of E&P companies on NEPA issues related to oil and gas projects
Representation of Indian tribes on various environmental and natural resource matters
Administrative litigation regarding NEPA issues on federal lands.
Other Representative Matters / Publications and Presentations
Available on Request